Dipl.-Inf. Julian Rith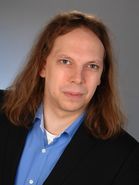 Organization:

Department of Computer Science

Working group:

Chair of Computer Science 6 (Data Management)

Fax number:

+49 9131 85-28854

Email:

julian.rith@fau.de
Address:


Martensstraße 3

91058 Erlangen

Consultation hours:
Weekly Mon, 11:00 - 12:00, Anmeldung per E-Mail obligatorisch.
---
From August 2011 to July 2017, Julian Rith was a member of the research staff at our chair.
Since then he is an external Ph.D. candidate at our chair.
Research focus
Evaluation of data management systems (relational und non-relational (NoSQL))
Databases in an automation environment
Publications