Dipl.-Inf. Peter Schwab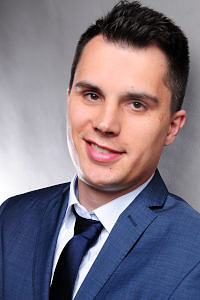 Organization:

Department of Computer Science

Working group:

Chair of Computer Science 6 (Data Management)

Phone number:

+49 9131 85-27902

Email:

peter.schwab@fau.de
Address:


Martensstraße 3

91058 Erlangen

Room 08.159

Consultation hours:
Only by prior appointment via E-Mail.
Further ways to contact:
Skype ID: peter.k.schwab
---
Since August 2011, Peter Schwab is a member of the research staff at our chair.
Research focus
Publications
Teaching
Vorlesung (VORL)
Time and place on appointment
Seminar (SEM)
Mon 16:00-17:15, Room 0.85
Übung (UE)
Mon 10:15-11:45, Room 02.135-113
Mon 8:15-9:45, Room 02.135-113
Wed 10:15-11:45, Room 01.153-113
Übung (UE)
Mon 16:00-17:30, Room 02.134-113
Mon 8:15-9:45, Room 02.134-113
Fri 8:15-9:45, Room 02.134-113

Mon 10:15-11:45, Room 02.133-113
Vorlesung (VORL)
Seminar (SEM)
Mon 16:00-17:30, Room 08.130
Vorlesung (VORL)
Seminar (SEM)
Mon 16:00-17:15, Room 0.85
Übung (UE)
TÜbung (UE) 8:15-11:30, Room 01.152-113
Tue 12:45-16:00, Room 01.152-113
Jobs