Dr.-Ing. Gregor Endler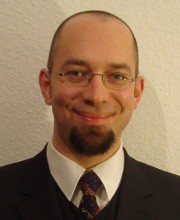 Organization:

Department of Computer Science

Working group:

Chair of Computer Science 6 (Data Management)

Email:

gregor.endler@fau.de
---
From November 2010 to June 2016, Gregor Endler was a member of the research staff at our chair.
Since then he was an external Ph.D. candidate until December 2017.
Research focus
Evolutionary Information Systems
Data Quality
Healthcare
Project medITalk
Publications
2017

We Can Query More than We Can Tell: Facilitating Collaboration Through Query-Driven Knowledge-Sharing


2017 ACM Conference on Computer Supported Cooperative Work and Social Computing

(

Portland, Oregon

,

02/25/17

-

03/01/17

)
BibTeX: Download
, , , , :

Anfrage-getriebener Wissenstransfer zur Unterstützung von Datenanalysten


Datenbanksysteme für Business, Technologie und Web (BTW 2017), 17. Fachtagung des GI-Fachbereichs ,,Datenbanken und Informationssysteme" (DBIS)

(

Stuttgart

,

03/06/17

-

03/10/17

)
BibTeX: Download
, , , , :

Query-Driven Knowledge-Sharing for Data Integration and Collaborative Data Science


21st European Conference on Advances in Databases and Information Systems

(

Nicosia

,

09/24/18

-

01/27/18

)
BibTeX: Download
, , , , :
2015
2014

Toward Pay-As-You-Go Data Integration for Healthcare Simulations


International Conference on Health Informatics 2014

(

Loire Valley, France

,

03/03/14

-

03/06/14

)
In:

HEALTHINF 2014 - 7th International Conference on Health Informatics, Proceedings; Part of 7th International Joint Conference on Biomedical Engineering Systems and Technologies, BIOSTEC 2014

,

Portugal

:

SciTePress

,

2014


DOI: 10.5220/0004734201720177
URL: http://www6.informatik.uni-erlangen.de/publications/public/2014/hi2014_baumgaertel.pdf
BibTeX: Download
, , :

ruleDQ: Ein Regelsystem zur Datenqualitätsverbesserung medizinischer Informationssysteme


GI Informatiktage 2014

(

HPI – Hasso-Plattner-Institut, Potsdam

,

03/27/14

-

03/28/14

)
URL: http://www6.informatik.uni-erlangen.de/publications/public/2014/gi_informatiktage_2014_gorupec_endler.pdf
BibTeX: Download
, :

Inverse Uncertainty Propagation for Demand Driven Data Acquisition


Winter Simulation Conference 2014

(

Savannah, GA 31421, USA

,

12/07/14

-

12/10/14

)
DOI: 10.1109/WSC.2014.7019934
URL: https://www6.cs.fau.de/publications/public/2014/WinterSim2014_baumgaertel.pdf
BibTeX: Download
, , , :
2013
2012
2011
Vortrag "Datenqualität in medizinisch-betriebswirtschaftlichen Informationssystemen"
Zusammenfassung
Verbesserung und Erhaltung von Datenqualität ist in allen Anwendungsdomänen von Datenbanken essentiell. Die Bewertung der Datenqualität geschieht mehrdimensional. Beispiele für diese Dimensionen sind Aktualität, Vollständigkeit und Korrektheit. In der Literatur werden viele weitere Dimensionen genannt, von denen sich manche überschneiden, andere sogar im Widerspruch zueinander stehen. Definition und Messung der Datenqualität entlang dieser Dimensionen ist nicht einfach, sondern verlangt in den meisten Fällen hohe Domänenkompetenz. Weiterhin bleibt das "Qualitätslevel" eines Datenbestandes nicht konstant, unter Umständen selbst dann nicht, wenn der Datenbestand in keiner Weise verändert wird. Um hohe Datenqualität zu gewährleisten, muss eine kontinuierliche Beobachtung und Verbesserung der Daten in Alltagsprozesse integriert werden. Medizinische Daten weisen dabei einige Besonderheiten auf, die eigene Anforderungen an Datenqualität stellen. Diese sollen in diesem Vortrag beleuchtet werden.
Der Vortrag soll das Bewusstsein für Belange der Datenqualität schärfen. Hierzu wird die Notwendigkeit von Datenqualitätsmessung motiviert, sowie eine generische, aber allgemeingültige Definition von Datenqualität gegeben. Ausgehend davon lernen Zuhörer eine Auswahl von feingranularen Qualitätsdimensionen sowie Herangehensweisen zur Messung entlang dieser Dimensionen kennen. Anhand des Projekts MEDITALK wird beispielhaft ein Verfahren erläutert, das domänenspezifische Besonderheiten im Bereich medizinisch-betriebswirtschaftlicher Informationssysteme adressiert.
Vorstellung Projekt MEDITALK
Präsentation des Forschungsprojekts MEDITALK mit zwei Postern (Ursprünglich GMDS 2012 und GI Jahrestagung 2013 ) am Standort von Astrum IT.